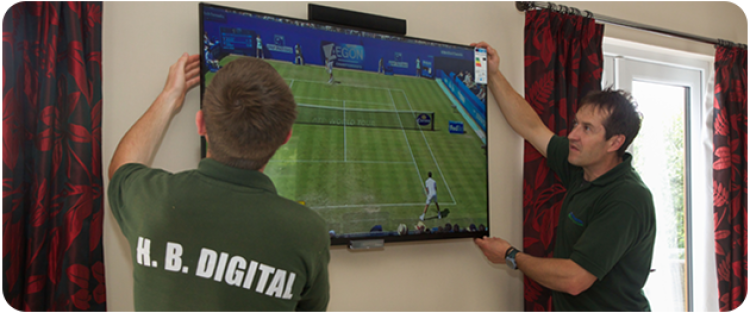 HB Digital Ltd aerial and satellite installers in North Wales, can take your home entertainment to the next level.  Bose, Cloud and Sonos systems can be supplied and fitted by our highly skilled engineers. Sonos is proving a popular solution for many of our clients and so for anyone looking to improve their in-house entertainment systems both visual and audible, it could be a good option.
Sonos is the wireless Home Sound System that sets up quickly and makes listening easy. Use the free app to connect directly to your home Wi-Fi network and send different songs to different rooms at the same time. Or enjoy your favourite tune in perfect sync all through your house. Sonos plays all the most popular music services, internet radio, audiobooks, podcasts, music downloads—you can even set it up to play your vinyl collection. With Sonos, you can enjoy whatever you love to listen to, in any and every room in your home.
Why choose Sonos home cinema?
The set-up is easy.
No need to run speaker wires all around the room. Just turn everything on, connect PLAYBAR to your TV with a single optical cable, and relax… Your SUB and rear speakers will sync up wirelessly. You can also create the ultimate setup of a PLAYBAR + Apple TV, combining video streaming and audio excellence together.
Grow to 5.1, without the drama.
Start with PLAYBAR, then add SUB and a pair of surround speakers whenever you're ready. They're all part of one surround sound system, so they work together seamlessly.
Stream music too.
More than just great sound for your films and games. Stream your favourite music services and internet radio to your TV room as well.
Expand to any or every room.
Share TV sound or streaming music around your entire home. Just add Sonos smart speakers in other rooms and they'll wirelessly sync to your home cinema system.
As you can see there are no end to the possibilities by installing a Home Sound System in North Wales, please feel free to contact HB Digital 01758721426